The Chelsea Brasserie offers modern British cuisine infused with European recipes and techniques.
Locally sourced produce and seasonal ingredients are central to the menu's innovative dishes.
Party, canopy, set menus and various party packages are available upon request to suit all budgets please contact the restaurant for further details.
Gluten & dairy free dishes are available. Please discuss with server or enquire with the restaurant.
Children's menu options are available.
We are happy to take bookings out of set opening hours. Please contact the restaurant to arrange.
FOR THE TABLE
Ciabatta Bread Basket & Butter £3.95
Marinated Olives £3.95
Balsamic Oil £1.00
---
STARTERS
Beetroot cured smoked salmon, Pickled vegetables (gf,df,nf) £11.95
King prawns, cherry tomatoes, Lemon garlic butter sauce, served with warm ciabatta £9.95     (df,nf gf except ciabatta)
Marinated chicken, sweet tamarind dressing, garnish (gf,df,nf) £9.95
Warm goats cheese, apple beetroot walnut salad (gf) £9.95
Tempura fish, Sweet chilli tomato salsa (df,nf) £9.95
Seared Beef, tenderstem broccoli, pickled vegetables, wholegrain mustard mayonnaise, garlic crisps finished with parmesan (gf,nf) £12.95
---
MAINS
Pan seared seabream, Garlic butter grilled vegetables, Champagne carrot puree (gf,,nf,df) £17.95
Baked Salmon served with filled Tortellini, cherry tomatoes, Creamy lemon sauce (v,nf) £19.95
King prawn linguini, Courgette, Cherry tomatoes, Chilli flakes, Finished in a creamy lemon sauce (v,nf) £18.95
Pesto roasted free range chicken breast, Creamy mushroom sauce (gf,nf) £17.95
Pan seared loin of venison, Truffle mash, Heritage carrots, Finished with pan jus (gf,nf) £24.95
Braised lamb shank, Rosemary roasted new potatoes, Grilled vegetables, Finished with minted pan jus (gf, df,nf) £24.95
Slow cooked pork loin cooked in cinnamon & bayleaf, Sauteed mushrooms & new potatoes, Heritage carrots, Red wine jus (gf,df,nf) £15.95
Fillet Steak 8oz, Grilled vegetables, Sauce of your choice (gf,df,nf) £32.95  (Peppercorn, Blue Cheese, Red Wine Jus, Garlic Butter) (gf,nf)
SIDES
Fries (gf) £3.95
Parmesan & truffle fries (gf) £4.95
Truffle mash (gf) £4.95
House salad £3.95
House vegetables £4.00
Grilled vegetables £4.95
Buttered new potatoes £4.50
Sauteed mushrooms £4.95
---
DESSERTS
Sticky toffee pudding, caramel sauce, vanilla icecream (v, gf,nf) £6.95
Cheesecake of the day served with vanilla icecream (v,nf) £6.95
Chocolate orange slice, chocolate brownie base, chocolate filling finished with orange sauce (gf,v,ve,df,nf) £6.95
Lemon & white chocolate roulade, vanilla icecream, fruit compote (v,nf) £6.95
Cheese selection, selection of cheeses, chutney, biscuits & fruit (v,nf) £11.95
Affogato, vanilla icecream, hot espresso (v, gf,nf) £5.95
Icecream & sorbet with wafer (3 scoops) £5.95
Icecream – coconut, strawberry clotted cream, chocolate fudge brownie, salted caramel, vanilla (v,gf)
Sorbet – Passion fruit & Mango, Blood orange sorbet, Lemon (v,ve,gf,df,nf)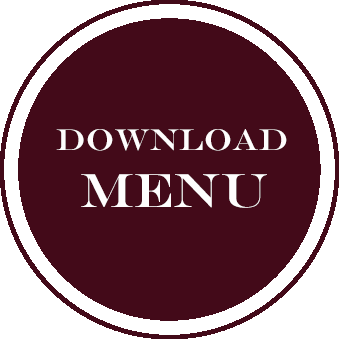 Please inform your server before ordering of any allergies or dietary requirements. Bottled Water is chargeable.