The Chelsea Brasserie offers modern British cuisine infused with European recipes and techniques.
Locally sourced produce and seasonal ingredients are central to the menu's innovative dishes.
Party, canopy, set menus and various party packages are available upon request to suit all budgets please contact the restaurant for further details.
Gluten & dairy free dishes are available. Please discuss with server or enquire with the restaurant.
Children's menu options are available.
We are happy to take bookings out of set opening hours. Please contact the restaurant to arrange.
FOR THE TABLE
Basket of Bread & Butter £2.95
Marinated Olives £3.50
Garlic Bread £3.45
Garlic Bread with Cheese £3.95
---
SHARING PLATTER
CHARCUTERIE  £7.95 / £10.95
chorizo / salami / parma ham / pepperoni
CHEESE £7.95 / £10.95
mild cheddar / blue cheese / goats cheese / soft brie
---
STARTERS
SEAFOOD STARTERS
Battered Whole Soft Shell Crab, Sweet Chilli, Garnish £8.95
Steamed Mussels, White Wine Creamy Sauce, Baked Ciabatta £6.95
Pan Seared Scallops, Cauliflower Veloute, Herb Oil £9.95
Chilli Mango Coated Prawns Hand Crumbed, Sweet Chilli £7.95
Potted Crab, Guacamole, Baked Ciabatta £6.50
Tiger Prawns Cooked In Chilli, Garlic, Tomato Sauce, Baked Ciabatta £7.95
MEAT STARTERS
Pan Fried Chicken Strips, Tamarind Sauce £7.95
Farmhouse Pate, Baked Ciabatta, Tomato Chutney £6.50
Pan Seared Black Pudding, Potato Rosti, Hollandaise Sauce £5.95
Confit Duck & Blackberry Terrine, Blackberry Jam, Baked Ciabatta £5.95
THE REST
Soup de Jour with Baked Ciabatta & Butter £5.95
Red Leicester Cheese & Caramelised Red Onion Souffle With Mixed Leaf Salad £5.50
Mushrooms & Spinach Sauteed With Chilli & Garlic Served On Baked Ciabatta £5.95
Breaded Baby Camembert, Tomato Chutney, Baked Ciabatta £6.50
Risotto Croquettes With Tomato Sauce & Basil Dressing £5.95
Apple, Goat Cheese, Walnut Salad £5.95
---
MAINS
SEAFOOD MAIN COURSES
Grilled Salmon Fillet, Cherry Tomato Spinach Relish Sauce, New Potatoes £15.95
Roast Cod, Creamed Mushrooms & Spinach With Mustard Seed £16.50
Pan Seared Fillet Of Seabass, Minted Linguini, Basil Herb Oil £14.50
Mussels In White Wine Creamy Sauce, Chilli Flakes, Baked Ciabatta £14.95
Seafood Linguini With Prawns, Mussels, Clams In A Tomato Sauce, Chilli Flakes & Lime £13.95
MEAT MAIN COURSES
Spinach Cranberry Brie Stuffed Chicken Breast Wrapped In Pancetta, Green Beans, Jus £15.50
Grilled Chicken Breast Marinated In Lemon & Rosemary, House Salad, Fries, Creamy Vegetable Sauce £13.95
Roasted Aberdeen Angus Slices, Potato Gratin, Carrots, Pancetta, Red Wine Jus £16.95
Duck Leg Confit, Potato Gratin, Braised Red Cabbage, BlackBerry Jus £16.50
Braised Lamb Shank, Creamy Mash, Carrots, Minted Red Wine Jus £15.95
Brined Pork Loin, Roast Potatoes, Broccoli, Red Wine Jus £14.95
Roast Loin Of Venison, Braised Red Cabbage, Parsnip Crisps, Pan Jus £17.95
PASTA, RISOTTO, SALAD & OTHER
Roquette Salad, Cucumber, Cherry Tomatoes, Red Onion, Parmesan, Basil Herb Oil & Balsamic Dressing –
Add Beef/Chicken Strip £10.95, Grilled Salmon Fillet £12.95
Stuffed Peppers With Creamy Risotto, House Salad, Cherry Vine Tomatoes Balsamic Glaze £11.95
Creamy Risotto Made With Chefs Sauce –
Add Vegetables £11.95, Mushroom & Truffle Oil £11.95, Chicken £12.95, Seafood £13.95
Butternut Squash & Sage Ravioli, Vegetable Puree Finished With Roquette £12.50
Chicken, Chorizo, Mushroom Tagliatelli £14.50
STEAKS & BURGERS
8 oz Fillet Steak £27.95
9 oz Sirloin Steak £22.95
all come with Fries, Roquette Garnish & Sauce Of Your Choice (Garlic Butter, Peppercorn, Red Wine Jus, Diane, Blue Cheese Or Bernaise)
8 oz Gourmet Beef Burger £13.95
Chicken & Chorizo Burger £13.95
all come with Fries, Roquette & Red Onion Marmalade
SIDES – £3.95
Fries*Sweet Potato Chips | Buttered New Potatoes | House Vegetables | Sauted Mushrooms | Braised Red Cabbage | Green Beans & Shallots | House Salad | Onion Rings | Lyonnaise Potatoes | Creamy Mash | Creamed Spinach | Roasted Potatoes | Mediterranean Risotto Rice
---
DESSERTS
Sticky Toffee Pudding, Toffee Sauce & Banoffee Ice Cream £6.50
Stem Ginger & Treacle Tart With Salted Caramel Ice cream £5.95
Mini Black Forest Torte With Forest Fruit Compote £6.95
Cheesecake Of The Day Served With Vanilla Ice cream £6.50
Chocolate Fudge Cake Of The Day With Vanilla Ice cream £5.50
Apple & Berry Crumble Slice With Custard £5.95
Selection Of Continental Cheeses With Biscuits & Chutney £8.95
Ice creams (3 Scoops) Vanilla, Chocolate, Mint, Banoffi, Pistachio, Salted Caramel £4.95
Sorbets (3 Scoops) Champagne, Lemon, Blackcurrant, Mango £4.95
---
HOT DRINKS, LIQUEUR COFFEES, DESSERT WINES, SHERRIES & PORT
HOT DRINKS £3.25
Earl Grey Tea, Breakfast Tea, Mint Tea, Peppermint Tea, Americano, Cappuccino, Latte, Mocha, Espresso, Double Espresso, Hot Chocolate
LIQUEUR COFFEES – £4.95
Irish Coffee – With Jameson's Whiskey
Calypso Coffee – With Tia Maria
Baileys Coffee – With Baileys
Italian Classico –With Amaretto
French Coffee – With Grand Marnier
WHISKY
Glenfiddich 12 Yr £3.65
Glenfiddich 15 Yr £4.45
Jamesons £3.35
Monkey Shoulder £3.85
COGNAC/BRANDY
Hennessy £3.6
H By Hine £4.30
Glory Cognac £40.00
Remy Martin Vsop £4.70
SHERRIES/PORT
Bodegas Hildalgo La Gitana Manzanilla 50ml £5.95, 100ml £6.95, Bottle 17.95
Lustau Solera Reserva Los Arcos 50ml £7.50, 100ml £8.95, Bottle £34.95
Nieport Lbv 50ml £7.50, 100ml £8.95
Taylors Ruby 50ml £5.95, 100ml £7.25
Taylors Tawny 50ml £8.50, 100ml £16.00
DESSERT WINES
Chateau Poulvere Monbazillac (France) 50ml £4.95, 100ml £6.50, Bottle £19.00
Andrew Quady, Black Muscat (Usa) 50ml £4.95. 100ml £6.95, Bottle £27.95
Carmes De Rieussec (France) 50ml £5.95, 100ml £7.95, Bottle £35.00
Please See Drinks List For More Choices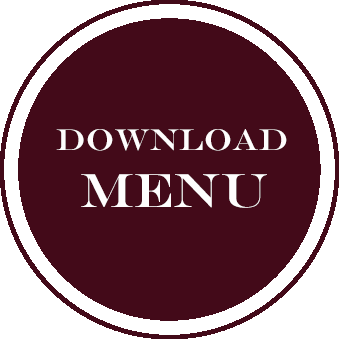 Please inform your server before ordering of any allergies or dietary requirements. Bottled Water is chargeable.