2 Courses £9.95, 3 Courses £12.95
Lunch & Early Evening Menu
Served 12:00 – 2.30pm (Mon – Sat) & 5pm – 7pm (Mon – Fri)
Please Note: Discount Cards/Vouchers & Any Promotional Deal Is Not Accepted On This Menu. Only Accepted On Full Price A la Carte Menu.
Party, canopy, set menus and various party packages are available upon request to suit all budgets please contact the restaurant for further details.
We are happy to take bookings out of set opening hours. Please contact the restaurant to arrange.
Gluten & dairy free dishes are available. Please discuss with server or enquire with the restaurant.
Children's menu options are available.
STARTERS
Potted Crab, Guacamole, Baked Ciabatta
Soup De Jour With Toasted Baked Ciabatta
Pan Fried Chicken Stips With A Sweet Tamarind Sauce
Farmhouse Pate With Apple & Tomato Chutney And Baked Ciabatta
Mushrooms & Spinach Sauteed with Chilli & Garlic Served on a Baked Ciabatta
Chilli Mango Coated Prawns Hand Crumbed with a Sweet Chilli Sauce
Apple, Goats Cheese and Walnut Salad
Pan Seared Black Pudding with Potato Rosti and Hollandaise Sauce
Breaded Baby Camembert with  Apple and Tomato Chutney and Baked Bread
MAINS
Seafood Linguini with Chilli Flakes & Lime
Pan Seared Fillet of Seabass with minted Linguine
Chicken Chorizo & Mushroom Tagliatelle
Creamy Risotto – Add Veg, Chicken or Mushroom & Truffle Oil
Grilled Free Range Chicken Breast marinated in Lemon & Rosemary with House Salad, Fries and a Creamy Sauce
Grilled Salmon Fillet with a Cherry Tomato Spinach Relish served with New Potatos
Gourmet Beef Burger with Fries, Onion Marmalade and Salad
Brined Pork Loin with Roast Potatoes and a Red Wine Jus
Beef/Chicken Strip Salad with Roquette, Cherry Tomato, Red Onion Parmesan, Basil Herb Oil & Balsamic Dressing.
Chicken & Chorizo Burger with Fries, House Salad and Onion Marmalade
DESSERTS
Ice-Cream Sorbet
Stem Ginger & Treacle Tart with Salted Caramel Icecream
Cheesecake of the day with Vanilla Icecream
Cheese & Biscuits with Chutney
Chocolate Fudge Cake With Vanilla Icecream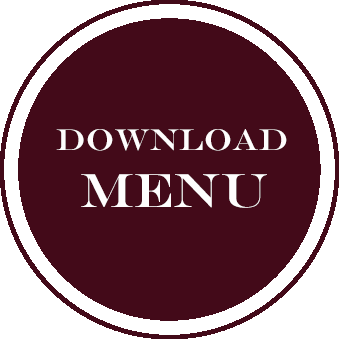 Please inform your server before ordering of any allergies or dietary requirements. Bottled Water is chargeable.